Mitsubishi Chemical Corporation Separation and Materials Department
Mitsubishi Chemical Corporation has been manufacturing DIAION™ , ion exchange resins, and SEPABEADS™ , synthetic adsorbents for over 70 years. Our DIAION™ and SEPABEADS™ are known throughout the world for excellent performance, superior physical and chemical properties and lot-to-lot reproducibility for industrial separations and purifications. Mitsubishi Chemical currently offers over 200 unique compositions of separation media for variety of applications. We are pleased to present a compilation of our standard commercial products and encourage you to contact one of our offices to discuss your applications.
We are also pleased to inform that our products are certified to HALAL. For any additional requirements, such as food additives and Kosher, please inquire us by clicking "Contact us" with the name of the product and the compliance or certification that is required.
DIAION™ Worldwide
Headquarter
Mitsubishi Chemical Corporation
Specialty Materials Business Group, Life Solutions Division
Separation Materials Department
Address: 1-1 Marunouchi 1-chome, Chiyoda-ku, Tokyo 100-8251, Japan
Phone: +81-3-6748-7146 FAX: +81-3-5487-6810
Regional Offices & Distributors
Resindion S.R.L.
Address: Via Roma 55, 20082 Binasco(MI), Italy
Phone: +39-02-900-130223 Fax: +39-02-90090774
E-mail: info@resindion.com
Mitsubishi Chemical Taiwan Co., Ltd.
Address: No. 42, Huazhong Rd., Daliao Dist., Kaohsiung City, 831703, Taiwan
Phone: +886-7-7871295 Fax: +886-7-7871052
E-mail: MCAP-DG-TYC_SERVICE@mchcgr.com
Mitsubishi Chemical (China) Co., Ltd
Address: 39nd Floor, Grand Gateway Office Tower 1, 1 Hongqiao Rd., Xuhui District, Shanghai, 200030 China
Phone: +86-(0)21-5407-6161
E-mail: MCCN-DG-MCN_SH_AQUA@mchcgr.com
Mitsubishi Chemical India Pvt. Ltd.
Address: Vatika First India Place, 3rd Floor, Tower-A, Sushant Lok, Phase-1, MG Road, Gurugram-122002, Haryana, India
Phone: +91-124-469-9800 Fax: +91-(0)124-4699822
E-mail: mcap-mbx-mcc_india_info@mchcgr.com
Itochu Chemicals America Inc.
Address: 360 Hamilton venue, 6th Floor, White Plains, NY 10601
Phone: +1-914-333-7800 Fax: +1-914-333-7848
E-mail:s&ptsales@itochu-ca.com
What is ion exchange resin?
Mitsubishi Chemical's ion exchange resin, DIAION, has a long history. Its research started in 1938 and its industrial production continues today as started in 1946, shortly after the end of WWII. This series has been produced for approximately 60 years. Over many years, DIAION has not limited its applications only to the production of industrial water, such as soft water and purified water, but is now used for a wide variety of applications, including refinement of medicines and foods, waste water treatment, and production of ultrapure water for semiconductor manufacturing.
To respond to the various needs of fields and applications, Mitsubishi Chemical's ion exchange resins, DIAION series, have a variety of lineups including simple cation exchange resins, anion exchange resins and a rich variety of ion exchange resins, such as chelating resin and compound adsorbent.
With a wide range of lineups and caring technical services that have been cultivated through the long-year experiences, we are delivering products that satisfy users.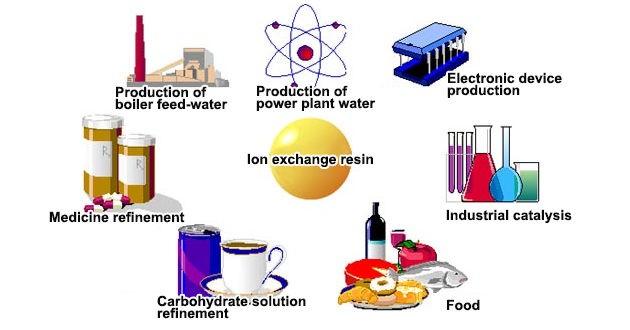 Ion exchange resins are made of styrene that has one vinyl group on the benzene ring and divinylbenzene (DVB) that has two vinyl groups on the ring. Through their suspension polymerization in water, the DVB cross-links polystyrenes, which are straight-chain high molecules, which creates a granular polymer with a three-dimensional structure that is insoluble. By introducing sulfonic acid or quaternary ammonium salt to this polymer as a functional group, ion exchange resin is created.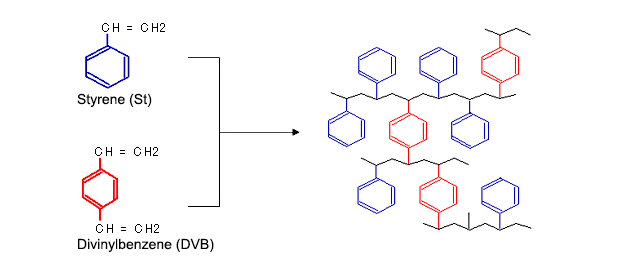 By increasing or decreasing the volume of DVB, which cross-links polystyrenes during polymerization, the size of the molecule mesh (micro pores) in resin changes. When DVB increases, the cross-linked parts increase and the mesh becomes closer. When DVB decreases, the cross-linked parts decrease and the size of the mesh holes become larger.
The weight rate of this cross-linker, DVB, in all materials is called degree of cross-linkage. The degree of cross-linkage is one of the factors that substantially affect the performance of an ion exchange resin.

Ion exchange resins are categorized into cation exchange resins and anion exchange resins by the ions to be exchanged, not the ions of the base. In other words, cation exchange resins exchange positive ions, such as Na, Ca, and Mg, while anion exchange resins exchange negative ions, such as CI and SO4.

Ion exchange resins are roughly categorized into three types depending on their physical structure. The most basic type is a gel type, which looks transparent and is created simply by polymerizing styrene with DVB. The porous type is created by physically making holes (micro pores) in the gel type. The highly porous type has more micro pores than the porous type.